Wade's exit 'end of an era'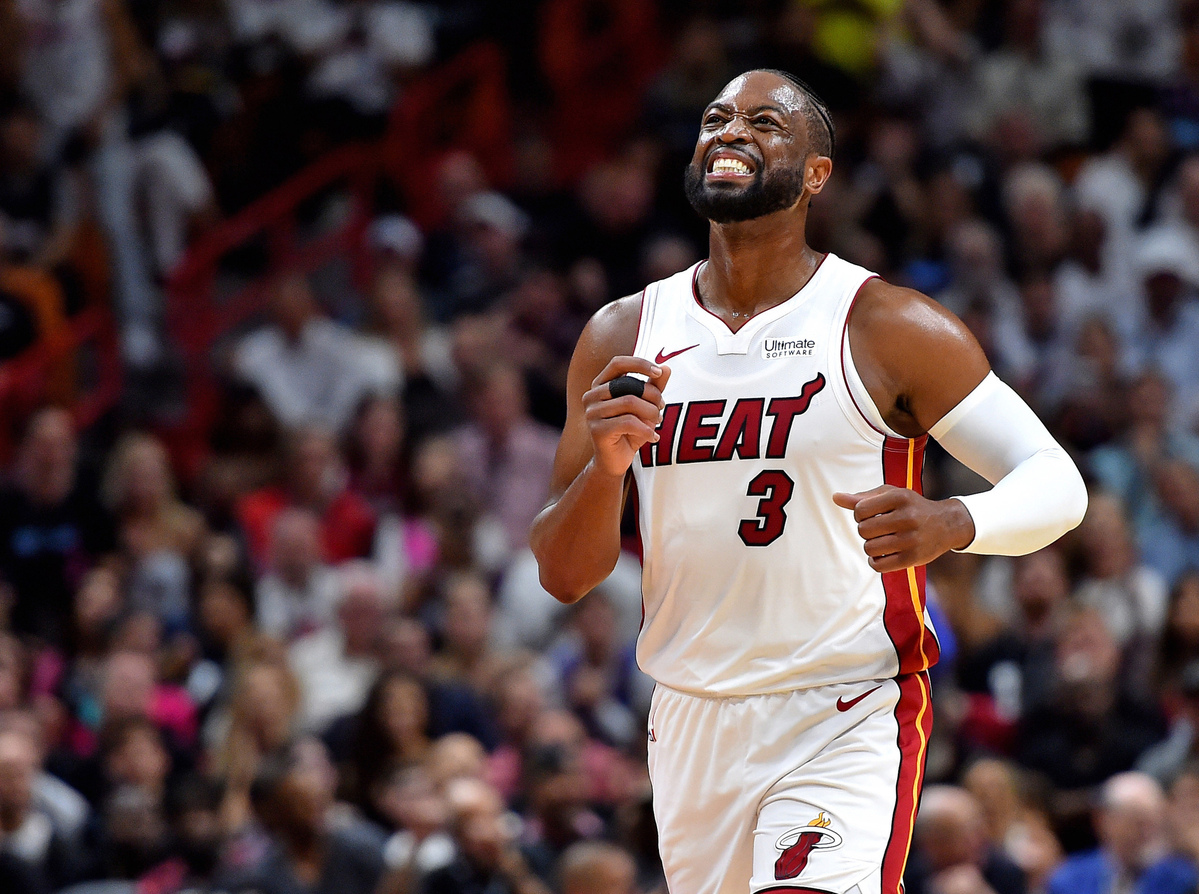 As the clock ticked down on his stellar NBA career this week, Dwyane Wade did what he always does-deliver something memorable.
As if scoring 30 points in Tuesday's home finale against the Philadelphia 76ers wasn't enough, the following night the Miami Heat shooting guard nailed the fifth triple-double of his career and first since 2011, racking up 25 points, 11 rebounds and 10 assists against the Brooklyn Nets to close the curtain on a 16-year run that saw him win three league championships, 13 All-Star selections and a scoring title, and being named MVP of the 2006 Finals.
Wade's former teammate and two-time NBA champion Ray Allen called it the end of an era.
"A generation has gone because the NBA is turning the page and moving on to a new era of players," 10-time league All-Star and Naismith Hall of Famer Allen said at the opening ceremony of the NBA Flagship Store in Beijing on Wednesday.
"He certainly was a guy that inspired a lot of young players. We need pioneers like him. It's not only about basketball, it's about all sports and other walks of life.
"I'm super happy for Dwyane for what he accomplished and his career. He was able to have a great career while keeping his health, for the most part.
"He finished it on his own terms. To walk away from the game and be able to say 'I've accomplished what I wanted to accomplish' is a great thing, and now it's time to move on."
Following Wednesday's game, Wade savored the moment.
"It's like everything I've done has led up to this moment," he said in a television interview.
"It's all a body of work, all the injuries, all the tough times. It led up to this moment. I couldn't have asked for a better ending to my last game and to my last season.
"Hopefully, I created enough for this state, for the city, for the fans here, for the young kids here. Hopefully, I can continue to be an inspiration for them, after being an individual who wasn't given everything, who the odds were stacked against.
"Even when I made it to the NBA, I still had the odds stacked against me. But I continued to believe in myself. I continued to put my head down and work hard."
While Wade had an amazing season, Allen doesn't include him in this year's MVP discussion.
"In terms of this year's MVP, for me it's between James Harden, Paul George and Russell Westbrook," Allen said. "They all played great all year. I love the way Westbrook played all season, but I would say George had the best year overall."
In terms of "the best five" to play with, Allen said he would choose Michael Jordan, Hakeem Olajuwon, Magic Johnson, LeBron James and Shaquille O'Neal.
Allen also said opening an NBA Flagship Store in Beijing will provide a big boost for promoting the game, particularly since China is hosting the FIBA World Cup this summer.
NBA China CEO Derek Chang also participated in the store's opening ceremony and expressed the hope it will "open the NBA experience" to more fans.
"We don't have the ability to always bring live games to Chinese fans because of the timing and logistics," said Chang. "We have two preseason NBA China Games every year, but this store represents another opportunity to bring that experience to the people."