Australian animal rights protests draw rebukes
By Karl Wilson in Sydney | China Daily Global | Updated: 2019-04-12 09:14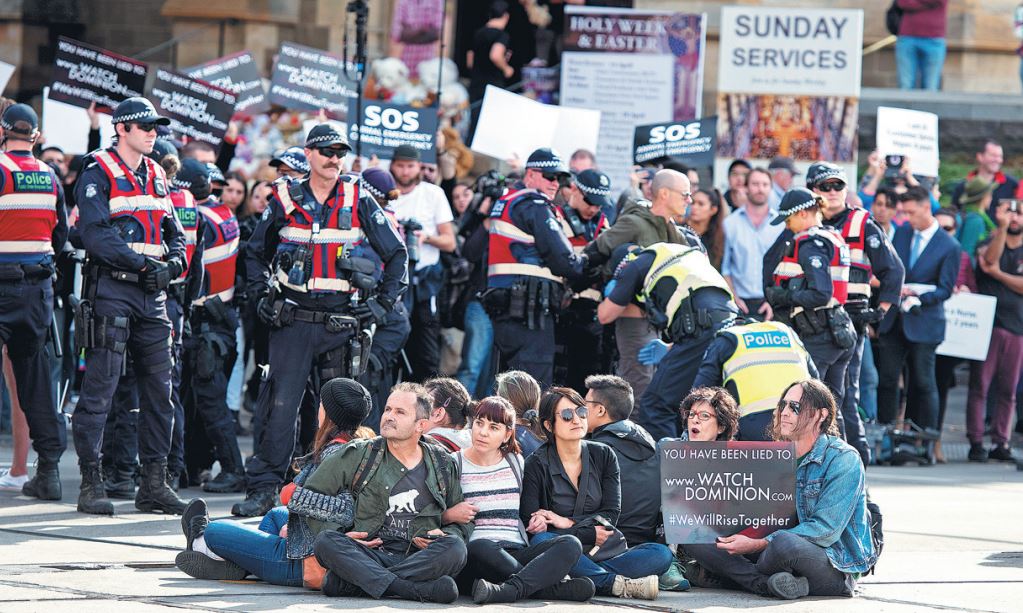 They are a growing number of vegans and animal rights campaigners in Australia, highlighting what they believe are inhumane methods used in the country's meat and poultry industry.
But Australian Prime Minister Scott Morrison calls them "green terrorists", with many in the industry also saying that the views expressed by the groups do not represent those of mainstream Australia.
On Monday, the center of Melbourne, capital of Victoria state, was brought to a standstill during the morning rush hour when vegan demonstrators held up traffic.
The protest was part of a coordinated campaign along the eastern Australian seaboard, as animal rights campaigners took over abattoirs across Victoria, New South Wales and Queensland states.
Dozens of people were arrested as a result, with a few of them charged.
Morrison has lashed out at the "shameful, un-Australian" protesters who targeted abattoirs on Monday morning.
"I think state and territory governments should ensure the full force of the law is brought against these green-collared criminals," Morrison told reporters on Monday.
"These people are opposed to all animals being held in captivity, from pets to guide dogs and even (fish and other species in) aquariums," said Laureta Wallace, spokeswoman for the National Farmers' Federation. The federation is a nonprofit representing farmers across Australia.
Earlier this year, animal activist group Aussie Farms also published a map featuring the locations of some 3,000 livestock properties and abattoirs around the country.
The extensive list of workplaces "made every one of them a target for invasion by activists", Wallace said.
Australia's Attorney-General Christian Porter announced that the government will look at "tough new laws" to deal with the threat posed by groups against "law-abiding farmers and their families".
"We have seen with Aussie Farms the malicious use of personal information, including farmers' names, addresses and workplaces, designed specifically to encourage others to trespass on properties and damage businesses," he said during a news conference.
"This is not acceptable, and the Morrison government will, if re-elected, introduce a new criminal offense specifically designed to protect Australian farmers from the sort of vigilante action we have seen this week."
Documentary filmmaker Chris Delforce, a director of Aussie Farms, uses hidden cameras and drones to investigate farming practices in Australia. He said that when it comes to animal rights, "it is more about showing people what's happening" than anything else.
Aussie Farms is dedicated to ending what it claims to be the "commercialized animal abuse and exploitation in Australian animal agriculture".
Speaking to China Daily, a spokesperson said: "All these industries rely on secrecy and deception, using marketing ploys such as 'humanely slaughtered' and 'free range', and imagery depicting happy animals living out their days on rolling green hills in the sunshine.
"By breaking down this secrecy and making it easier for consumers to see the truth about what their purchases support, the commercialized abuse and exploitation of animals will slowly but surely come to an end."
Kristin Leigh, campaign director for animals rights group Vegan Rising, said it wants people to "go vegan".
"We want people to stop supporting animal abuse. I don't believe any good person supports what's happening in slaughterhouses and so-called farms today. These are places that exploit innocent vulnerable beings," she said.
Lisa Chalk, campaign director for animal protection group Animals Australia, said one in three Australians are now either cutting back on meat consumption or cutting it out completely as they become more aware of the way animals are being treated.
"In Australia, some 400,000 male dairy calves are killed annually within the first five days of being born.
"With poultry it is worse, with some 20 million male chickens being killed a year within one day of hatching," she said.
Chalk said Australians are now starting to make informed choices about what they eat and where it comes from.
"Consumers are driving change because governments have failed to keep up with community expectations. The issues raised during this week's protests are important and need to be discussed."